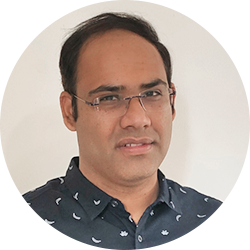 So my name is Vinay and I joined Decos in 2017, around five years ago. And even though I have mainly worked on projects for our customer, I really feel like a part of the big Decos company and family. Mainly, because the communication and interaction between Decos employees is very good. We all discuss the projects that we are working on and we all ask each other questions about technological matters. In addition, the global monthly meeting gives me insights in what everyone in Decos is working on, in India, The Netherlands and Canada. Also, I feel like Decos is really unique in their concern in the happiness of their employees. As they organize a lot of events and we get to spend a lot of time together with our team, I feel like I am a part of a family.

What would be the biggest advantage of being a part of Decos for you?
I get to work with technologies I have never worked with before and we get the opportunity to build projects from scratch. This might sound a bit intense, but it all has been a pretty smooth journey for me. As we are working in teams, you are able to learn a lot from your colleagues. When I start working on a new project or with a new technology, there is always someone in my team that has the needed experience and who is able and willing to teach me everything I need to know about it. This really works for me, as I get the biggest feeling of accomplishment out of my work when it is a little challenging. I feel like if you do the same technical work repeatedly, you won't get challenged and you will not stay engaged. If I know something and I can finish the job off quickly, it will not help me. I need a real challenge so I can feel some sort of accomplishment after creating the solution. Not only do I feel challenged by working with new techniques, but also because I am asked for my opinion in the development process and I feel like my ideas are really valued. It is not like the customer already has the whole solution mapped and just asks us to build it, they present us a problem and ask for our suggestions in order to find the best way to solve the problem. If it happens that a certain solution is asked and I believe that the use of another technology would be better for the long term, they will always listen to me and take my advice into consideration. I really feel like we are solving problems together, with solutions that help both Decos and the customer we have been working for and with.


So the projects you have been working on, would you say they challenge you?
I worked on around 4 projects and have been given more challenging projects over time. When working with a customer, you always have some kind of manager there as well. They will see how you are working, if you are completing your tasks and they will provide feedback to your Decos manager. By doing so, your manager at Decos has a pretty good idea of how well their employees are doing and how capable they are. If you handle your tasks and responsibilities correctly, you get the opportunity to grow within the company and you will be given more responsibilities within your next projects. I see this as a continuous process that requires 100% dedication from the employees and the organization. But if you feel like you can not handle the responsibilities you were given, everyone is always open to help you out. You just have to ask. You need to make people know that you need some help. But once again, if you've asked for help and still managed to deliver, you are still able to grow. If you keep proving yourself within Decos, you can keep growing.


Those development goals, can you tell me a little bit more about them?
Of course, all companies have goals. But Decos really makes a difference with the self-development goals for their employees. For people who are interested in challenging themselves, this is the best way to do it. These goals are partly adjusted to the organizational goals, but I feel like Decos really involves us in composing these goals. As you really get to contribute to your goals and they are adjusted to your personal wishes and ambitions, I feel extra motivated to achieve them. I also learned a lot about composing challenging and achievable goals for yourself, as I never had to do that before I started working at Decos. My manager really helped me with translating my wishes and interests into goals and with formulating ways to achieve them.


How do you feel Decos is supporting you in this "continuous growth process"?
Last year I was working on a project that I had been working on for quite some time and I wanted to change my technology set. So, I approached my manager and told him about my wishes. I asked him if there was a possibility to work on something new, and they immediately started looking for a new opportunity for me. I feel like they really listened to my concerns and solved them by assigning me this new project. I know that I can approach my manager any time, very freely. People within Decos are always open to listen to you. And, they do not only listen, but really act on it as quickly as possible. They will keep in mind the wishes of the employee and will carefully think about a solution that makes the employee and the organization grow together. In addition, I feel like the yearly development goals also really help me to grow. These development goals actually are, in my eyes, one of the best things about Decos. They enable you to decide in which direction you want to grow. Not only technologically but also if, for example, you aspire a management position, these goals can really help you with this. I feel like the managers at Decos always have the goals of their employees in mind and will try to support them in achieving these goals. If I indicated an interest in working towards a management position, to use the same example, my manager will help me to find a good leadership training. Or if I would indicate that I wanted to learn more about "the cloud" they would give me a project or hands on activities to learn more about the cloud. I really feel like if I achieve the goals we compose yearly, it is good for the company and good for myself.
"Long story short, 5 years but definitely still counting. I am looking forward to work for Decos for many more years to come." - Vinay Gupta, Technical Lead