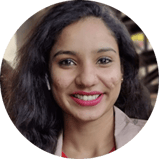 First of all, my name is Harshita and I have been working at Decos for around 9 months now. Before I started working at Decos, I was already working in the medical devices industry. But I was very interested in learning more about the development of these devices and the systems engineering. I was looking for a place where I could learn more about the techniques behind the actual devices and that's how I found Decos. Once I actually joined Decos, I was so happy with my decision. I never imagined to learn so much in a period of only 9 months.


You mentioned that you have learned a lot, how did Decos support you in this process?
First of all, everything you do is so independent and there really is no one interrupting you in achieving your goals. If you really want to do something within the company, no one will stop you. On the other hand, if you need help everyone in your team is always willing to help you. In addition, one of the biggest advantages of working for Decos is that you really get the opportunities if you ask and are willing to work for it. If I would tell my manager that I am interested in learning something new or developing myself in a specific area, she will always try to help me and look for the best possible way to support me in this. Lastly, I think that working in cross-functional teams is a big advantage of working for Decos. Because the teams are relatively small and it is so easy to communicate, we can learn a lot from each other's work. We look at each other's case studies or presentations and talk about what we're doing all the time, so I learn a lot from them as well.


So, you feel like you really developing yourself?
Absolutely! As mentioned, you have to be open about your ambitions and really grab the opportunities that you see around you. For example, I started working as a systems engineer but was very keen to learn more about risk management. I told my manager about this interest and after some time, a position as risk manager opened up. As i had mentioned to be interested in this specialization and as the customer was really happy about my performance, I got the job, I am a risk manager now. Before I started working as a risk manager, I did not have the knowledge that was asked for the job. But, I was very motivated to learn about this specialization and Decos really wanted to help me with developing the necessary skills and knowledge. In order to do this, my manager and I made sure that following a training in risk management was part of my personal development goals. And now, I recently received the certification.


Those development goals, can you tell me a little bit more about them?
Of course, all companies have goals. But Decos really makes a difference with the self-development goals for their employees. For people who are interested in challenging themselves, this is the best way to do it. These goals are partly adjusted to the organizational goals, but I feel like Decos really involves us in composing these goals. As you really get to contribute to your goals and they are adjusted to your personal wishes and ambitions, I feel extra motivated to achieve them. I also learned a lot about composing challenging and achievable goals for yourself, as I never had to do that before I started working at Decos. My manager really helped me with translating my wishes and interests into goals and with formulating ways to achieve them.


Even though you mainly work from our customer's offices, do you feel like you are a part of Decos?
I get a lot of support from my Decos team and my managers, so yes. It really feels like we are a team and a part of something bigger. My team, existing of around 7 to 8 people, is so very helpful. When my teammates notice that I have too much on my plate, they really try to help me out. They will ask me if there is anything they can do to help me and will take over some of my work. Not for credits or anything, just to help each other out.
"I actually recommended working for Decos to a lot of my friends. If they ask me to describe working for Decos in a few words, I would say: Very nice people. employee friendly, learning new things & teamwork" - Harshita Singh, Senior Systems Engineer