As of 1 October 2021, Doclogic B.V., based in Meppel, will become a subsidiary of the Decos Technology Group. Doclogic supplies innovative solutions for digital working and is a key reseller of Decos products. The company is a well-known player among hospitals, educational institutions, and independent administrative bodies. The Decos Technology Group has operations in the Netherlands, India, the Netherlands Antilles and North America to name but a few, and provides software development services in addition to information management solutions such as JOIN and Fixi. This takeover is intended to enable Decos to achieve synergy effects in the field of cloud services and sales and marketing.
Paul Veger, the founder and Executive Chairman of the Decos Technology Group, welcomes this step: 'This takeover will enable us to respond more quickly to our clients' needs. Some years ago, Doclogic started out as one of Decos' small partners and has grown to become our biggest. Now that Doclogic has expanded to such an extent, the time has come to take the company under our wing.'
Herald Raat and Tom Buys, the previous owners of Doclogic, regard the takeover as a satisfying conclusion of their many years of involvement at Doclogic. 'We are grateful to Decos for an extremely warm partnership which gave us the opportunity to develop a relationship with customers with innovative solutions and a great deal of personal attention,' says Buys. 'We are convinced that their future is in good hands with Decos.' As of 1 October, Herald Raat and Tom Buys have both stepped down from their positions at Doclogic.

Growth of Decos Technology Group
The takeover of Doclogic is in line with the broader growth strategy of the Decos Technology Group. CEO Daniël de Klerk explains: 'Our aim is not only to make the world more sustainable but to have an impact on the quality of the service provided to both citizens and companies. Together with our clients, we wish to give the digital society a human face. In recent years, many new technologies have entered the market that offer software options that we would previously not have thought possible. An increase in scale means that we are always in a better position to make these technologies quickly available to our clients, which in turn makes them more enthusiastic.'
By harmonising sales and marketing, Decos intends to bring other technologies alongside JOIN to the attention of Doclogic's clients, such as JOIN Collaboration and successful solutions such as Fixi and JOIN Customer Service Management. Daniël de Klerk continues: 'Fixi and JOIN Customer Service Management provide the hub for hundreds of thousands of client interactions every year. We are convinced that these applications can also contribute to an efficient provision of digital services to hospitals and educational institutions.'


Doclogic continues to exist as an independent brand
For clients, this takeover also means that tasks are executed more quickly in the cloud, as processes in that area are combined. Doclogic will continue to operate as an independent brand within the Decos Technology Group. Doclogic's account managers will still be the trusted point of contact for clients.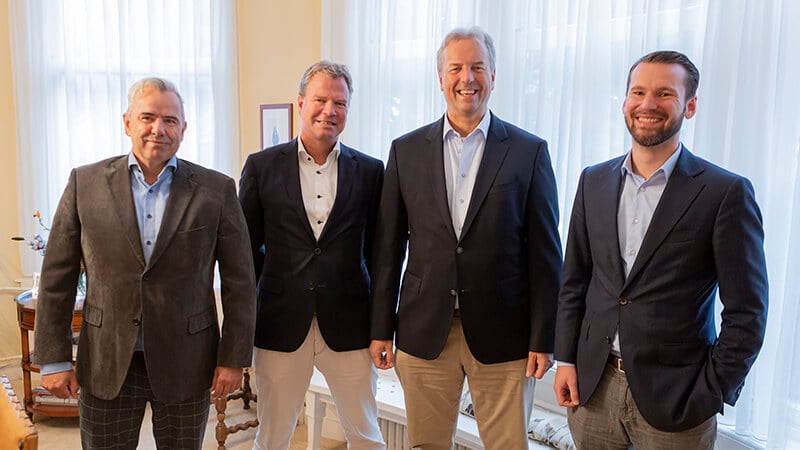 Left to right: Herald Raat (Doclogic), Tom Buys (Doclogic), Paul Veger (Decos founder) and Daniël de Klerk (Decos CEO)