Decos is owned by its employees. It's true—our shares are owned by our colleagues. This means we don't depend on external creditors, making it possible for us to pursue the Decos dream.

Making a profit has never been Decos' foremost goal. "Of course, the annual account is an important signifier of the company's health", explains founder Paul Veger, "but the goal is to create a new world using our passion for technology".

The pursuit of this goal is something Veger wants to do with his people. Colleagues are not told what to do from on high; instead, they are invited to take their own responsibility.

"Part of our empowerment principle is that people not only receive a salary at Decos; they are an integral part of the entrepreneurial process", continues the CEO of Decos. Employee participation at Decos has taken shape in a unique manner.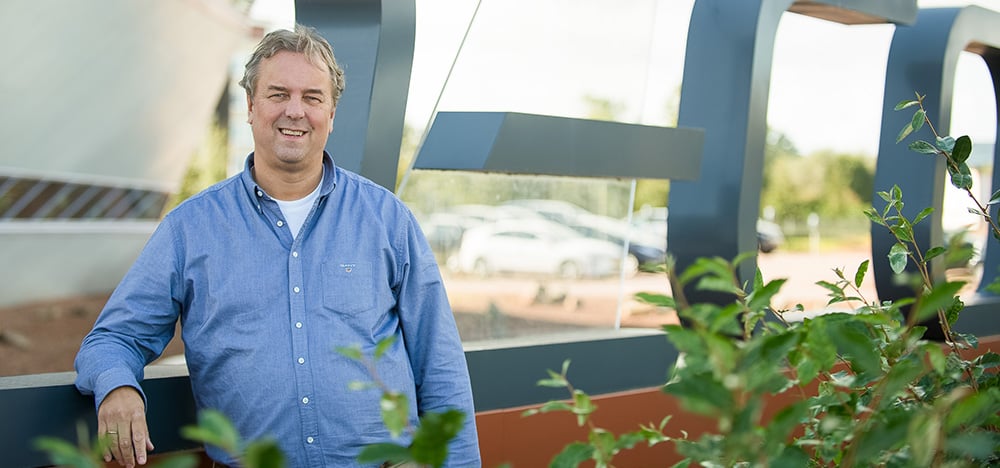 Decos founder Paul Veger

Everyone is an entrepreneur
After spending several years searching for an appropriate arrangement, which also had to have the approval of the Netherlands' tax authorities, Paul arrived at the idea of offering company shares to employees.

Anyone who spends more than nine months working for Decos can purchase shares. "Everyone can join in. The conditions are the same for everyone, regardless of whether you are the CEO, a developer or a product owner. A nice added feature is the entrepreneurial mindset this scheme fosters in Decos' employees."

This transparent and open concept has caught on. Today, roughly 40 percent of Decos' employees own shares in the company. As the founder of the company, Paul still has a majority interest, but the percentage of shares owned by employees is on the rise.


Colleagues on our 'happiness meteorite'


The model has various advantages to all stakeholders. Let's therefore look more closely at the reasons for "employee ownership".


Investing in innovation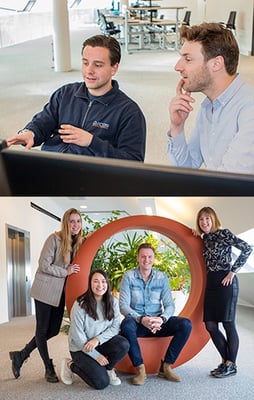 Our company dreams big. We not only look at the short term, but also look towards the future. The last thing we want is to be assessed on our profit margins by a spreadsheet investor every quarter. In such a construct, our investments would never become a reality. Of course, investing in the future of our products and sustainability costs money. Decos' own people understand its goals, making the possibility of achieving them a reality.

Take our paperless way of working, for example. It came about without external investments. But the result is clear—paperless working has improved mutual cooperation, and together, we save about a tree and a half of paper per employee every year.

In today's corona times, our experience of digital, paperless working is paying off. Transitioning into working from home was straightforward for us. On top of this, the knowledge we gained from the experience organically benefits the continued development of our products.

Also consider our investments in electric driving. Since 2017, our employees have only been able to lease wholly electric cars. Of course, the scaling back of our fleet of hybrid cars was a financial investment. An organisation purely focused on short-term profit would never have taken this decision—but Decos' employees did.
Even greater involvement
Employee ownership also increases work satisfaction. "You feel like you're a part of things", explains account manager Arjan de Ridder. "As a co-owner, you are willing to go just that little bit further for the company than if you had only been a paid employee at the company. A brilliant move by Paul."

If one of our employees shows up at your office for an implementation or to facilitate training, for example, there is a good chance he or she is a co-owner at Decos. Although we already select our employees on the basis of their enthusiastic personality, knowing this fact, their commitment to the company probably makes even more sense.


Successes are meant to be shared together!


Due to their participation in the company, it is in the employees' own best interest to perform exceptionally in their jobs. When the company is doing well, they are doing well. Or as Arjan explains: "When we grow and achieve new milestones, this is a shared party. These moments become even more special as part owners of the company".


Account manager Arjan de Ridder


Ready for the future through employee participation
"I do what I most enjoy doing. If I make money doing so, that's an added bonus." This is how Paul Veger summarises his work as Decos CEO. With this form of employee participation, Paul has paved the way for a beautiful and stable future for Decos. "I'm not getting any younger. I love to see people taking on more responsibility in the company, because their involvement enables Decos to continue making the world an even more beautiful place in years to come."

Decos is growing fast, so we are always looking for people who want to pursue the Decos dream with us. Take a look at our Working at Decos page for an overview of current vacancies.