We no longer lease polluting cars at our office, but only use electric and hybrid vehicles. Electric and hybrid driving is not only sustainable, it is much more fun, too!

Every morning when I drive my car to work, I enjoy a moment of pure joy. Not only because I am happy to go to work (I love my job!), but especially because I get to drive my electric car. I love it! And no, this is not about the sustainable character of the car, although that was the reason I initially bought it. It is just so much nicer to drive an electric car. Acceleration is smoother, and that makes driving far more relaxed. Besides, the engine makes no sound at all. This is incredibly calming. Some people think they might miss hearing the engine. But I don't find that to be the case. I put on a beautiful piece of music, and every morning I cruise through the dune landscapes of Noordwijk in my concert hall on wheels.


Enthusiasm
I am not the only one who enjoys this very pleasant experience. A while ago Decos participated in a trial electric driving event. People were invited to try out electric cars belonging to neighbors who made their cars available for that day. A number of enthusiastic electric drivers, including several colleagues and me, were also present on the Decos grounds with our cars. And what was the result? People were incredibly enthusiastic about electric driving.
At this point, it is all about generating enthusiasm for driving electric cars. But that is going to change. The automobile industry is in a transitional phase which has been slow off the mark, but will be irreversible when it gets going. You can't retool a diesel engine into making it more environmentally friendly. The technology is simply not sustainable, and in the long run, it will disappear. I am convinced new technology is the future of the automotive industry.


Pioneer
The question is not if, but rather when, this process will gain traction. The breakthrough moment for the electric car still seems very far away. A number of issues are preventing growth. For example, very few good midsize models are available. I also noticed during the trial event that many people are afraid of being stranded with an empty battery. It is true that the capacity of batteries must improve.
The government has set a target of 200,000 electric cars on Dutch roads by 2020. I actually think that number is conservative. Signs are not incredibly encouraging. I think The Netherlands could take on a leadership role in electric driving. The Netherlands has a fine-maze electricity network and excellent infrastructure. People are open to innovation and relatively environmentally aware. I am fully convinced that The Netherlands could be one of the first countries to have more electric cars than gas cars. At Decos we are excited to support that process by no longer driving mechanical cars. As a business for the future, we are also enthusiastic about driving cars of the future.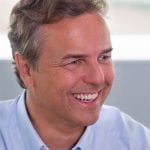 Posted on
3 November 2015