Founder Paul Veger always manages to fascinate his listeners with anecdotes about the birth of Decos and the early years of the company. So, we think that it is time to share this 'origin story' with a wider audience!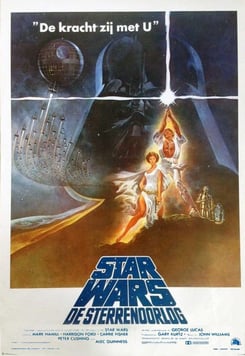 1977
Secondary school pupil Paul watches the original Star Wars film at the cinema. The space opera makes an indelible impression on the 13-year old from Heemstede.
The optimistic vision of the future that director George Lucas has, inspires him. The science fiction classic will form a central thread running through the rest of Paul's life.

1978-1982
Paul has been keen on tinkering with computers for years. He is the first person in the Netherlands to have an Atari 800. He and a few friends form a computer science work group at school. They meet once a week in the basement of the school building to write programs and exchange experiences. This leads to the formation of the first Dutch Atari user group.
His knowledge also comes to the attention of Atari Netherlands. Paul is invited to come and program there on a freelance basis. This is an instructive period for Paul, who quickly realises that he prefers to be his own boss.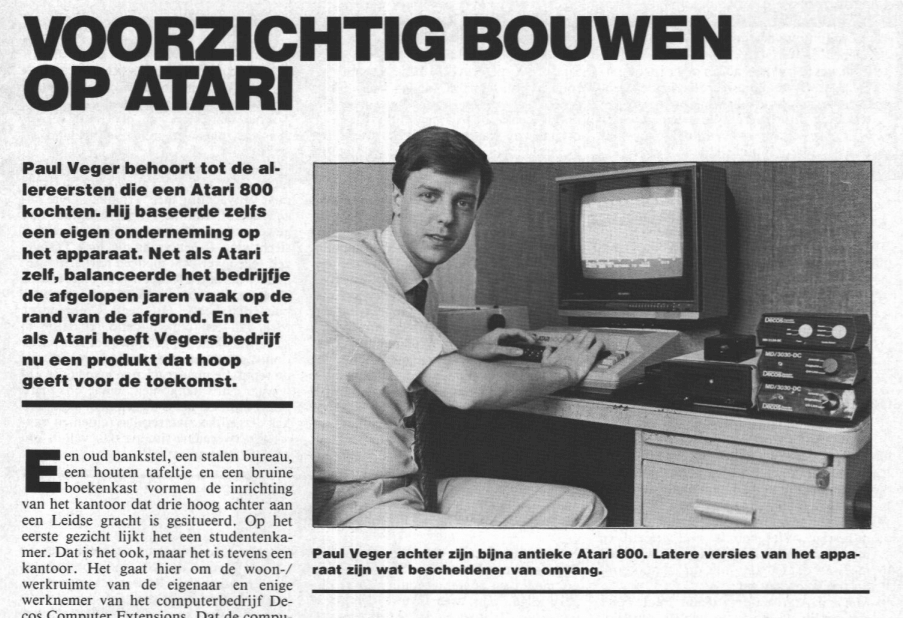 Dutch newspaper: "Build carefully on Atari"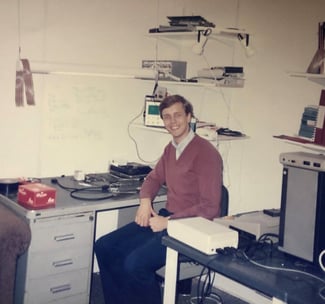 1983
Paul goes to study computer science in Leiden. During his studies Paul meets the love of his life, with whom he is still married to this day.)
Later in 1983 he forms Decos Computer Extensions, a company that specialises in the development and production of Atari apparatus and software. Paul will refer to this later as 'a hobby-business'. Paul is the director and sole employee. However, law students can earn a bit of pocket money by doing some soldering.
Under the flag of Decos Computer Extensions, Paul develops an Atari telephone modem that can be connected to existing models of Atari computers. The newsletter 'Escape' of the Atari Users Foundation is full of praise when it discusses the apparatus: "We have tested this modem, and everything works impeccably".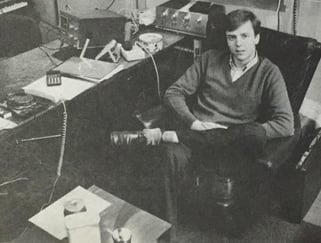 1985
Two years after setting up his one-man business, Paul draws up his first balance sheet. In an interview with Personal Computer Magazine, the then 20-year old director says it's never too soon to start your own business. "With limited resources I am learning a vast amount now", says Paul.
"When I have graduated in a few years, I won't still have to learn everything from scratch. That phase is already far behind me. And at present I can invest every cent that I earn in my business. I don't need to live from it. Look, I've already worked out that I never want to be a scientific employee or anything like that. l want to work for myself. You see, I'm very much the entrepreneurial type."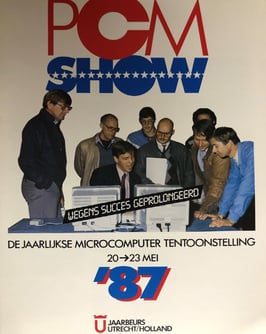 1986
In order to increase awareness of his company, Paul visits computer fairs. There, he fascinates his audience with his enthusiastic story. A characteristic photo of Paul, who is busy telling his story surrounded by a group of interested listeners, is even used on the poster for the PCM Show 1987. That was the computer fair which Personal Computer Magazine used to organise annually at that time, in the Utrecht Jaarbeurs.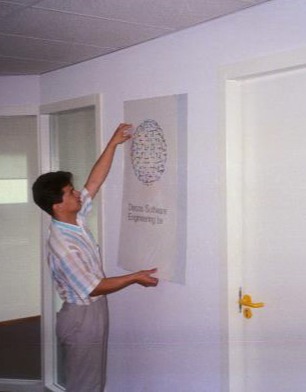 1987
Paul is still studying, but he feels it is time to expand his horizons. He looks beyond the games-computer to business software. Solutions in the area of document and information management are just beginning to take off, and Paul sees his opportunity. This is how Decos Information Solutions was born. Over the decades to follow, this will be seen as the 'real' starting point of the company's history.
He leases an office building in Katwijk and begins taking people on. It is one big adventure for Paul, and he learns something new nearly every day.
The mission of the startup avant la lettre: to make the future brighter. In fact, the new Decos is not very different from his earlier hobby project; Paul does what he enjoys, and the fact that he also receives money for it, is an added bonus.
The Decos story has begun! Do you have any questions about the early years of Decos? Let us know below, as a reaction. In the next episode we describe how Decos continues to grow and expands into India.