Every patient deserves the best care whether they are under treatment for ailments, recovering from illness, taking preventive measures, or undergoing health monitoring.
The Covid-19 pandemic changed the world and turned healthcare monitoring 360 degrees. The medical staff, both Doctors and paramedics, and admin staff were busy monitoring, treating, and saving patient lives in the hospitals. But for non-Covid patients, especially those suffering from other critical illnesses, it was difficult to visit hospitals or clinics. It was during such times that telemedicine and remote patient monitoring helped non-covid and covid patients to get treated.
Remote Patient Monitoring (RPM) provides healthcare to patients without visits to hospitals/clinics, thus lessening the burden on healthcare staff, administrative systems, and doctors. RPM enables keeping a check on patients' vitals, whether they are at home, travelling, vacationing, or at work. It saves the patient's time and effort required to travel and wait in queues, fill forms, insurance follow-ups, etc. Healthcare providers can monitor and electronically capture medical and patient health data to assess the patient's condition and give recommendations and instructions.
The adoption of RPM during and post-pandemic days has seen an increase in adoption and is set to result in everyday practice. The numbers speak about the ground reality – according to a report published on Allied Market Research, "The global remote patient monitoring market was valued at 1.9 billion in 2021 and is projected to reach 8.5 billion by 2031, growing at a CAGR of 16.3% from 2022 to 2031".
https://www.alliedmarketresearch.com/remote-patient-monitoring-market
The driving factors for RPM:
a rise in the population of patients with chronic conditions
an increasing number of geriatric patients
presence of lifestyle disorders at a young age
availability of sophisticated wearable devices
Benefits of Remote Patient Monitoring: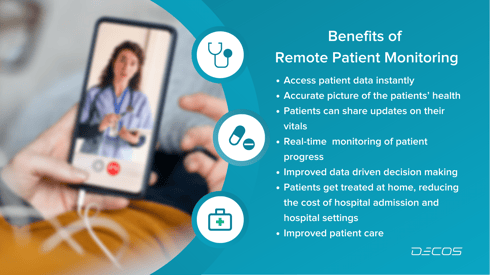 RPM proved to be the foundation of patient care during a pandemic to ease the burden on over-packed hospitals. Now, when individuals are more conscious about their health, they are willing to experiment with new devices and wearables. Patients as well as healthy individuals are keen to learn how to leverage RPM for treating ailments, and prevention of a medical condition. RPM can generate and provide data to caregivers to identify trends and patterns in patients' data.
While RPM played a crucial part in care delivery during Covid-19, the practice didn't stop with the pandemic. It has the potential to enhance the existing healthcare system to deliver better patient outcomes. Virtual health is going to stay as it serves a broader base of patients, and its utilization is increasing significantly.
As RPM gains mass popularity, the abundance of data from medical devices, wearable health platforms, and data created from other health systems, needs to be stored and exchanged securely. The health information thus collated enables RPM solutions to be fully integrated into patient health records management systems.
Health organizations and physicians have acknowledged the transformation when technology meets healthcare. Integration of Electronic Health Records (EHR) and Electronic Medical Records (EMR) into Remote Patient Monitoring technologies is one such example.
Interoperability in healthcare is thus, the ability to access, exchange, integrate, and use patient health data from information systems, devices, and applications across the organization for quick and accurate outcomes.
Interoperability makes devices collaborative
With interoperability, data communication from multiple devices to information platforms is easier through a secure, standard-compliant, data-sharing gateway. For healthcare providers interoperability is important to share patient medical data and make it accessible to physicians and patients.
Health Information Exchange (HIE) allows doctors, healthcare providers, and patients to access and share a patient's medical information electronically. The patient data needs to be shared securely to avoid data breaches/thefts. HIE helps in improving the speed, quality, safety, and cost of patient care. Thus, it is extremely crucial to achieve interoperability in healthcare.
How to achieve interoperability?
There are crucial prerequisites for achieving interoperability that every healthcare system should integrate and strive for a greater outcome.
Health Level Seven (HL7)
Health Level Seven International (HL7) - a healthcare standards organization, developed standards to encourage interoperability between healthcare systems. HL7 has now become a standard used to exchange information between medical information systems.
Paper-based health records, which were maintained by doctors and hospitals earlier are now replaced by electronic files – Electronic Health Records (EHR). The data via RPM is then shared with the central data repository – the EHR system. The EHR system allows simultaneous and secure patient data exchange from multiple locations and devices by authorized users only.
Digital Imaging and Communications in Medicine (DICOM)
DICOM is a worldwide standard used to manage and exchange medical images and related data between different devices. It is widely used by hospitals and healthcare organizations. The protocol defines a file format and networking standards. This is to ensure that different devices can operate together within the same environment.
Thus, this standard supports the communication of medical imaging information to facilitate interoperability between medical imaging systems from different vendors.
Fast Healthcare Interoperability Resources (FHIR)
FHIR is a healthcare data standard with an Application Programming Interface (API) that defines how healthcare information can be exchanged between different computer systems. APIs enable health information systems to communicate and transfer data among each other. FHIR through an information network enables the linking of data across systems and a network to exchange data between systems.
The role of APIs in Healthcare Interoperability
An API framework is a common language used to facilitate more meaningful patient data exchange between systems. APIs enable information systems and healthcare applications to communicate and exchange healthcare data in real-time to enhance interoperability. The types of APIs can be:
EPIC FHIR APIs – a technology tool that comes with a readymade testing suite, to build applications to provide healthcare data
A well-documented and easy-to-use API lets developers create products and exchange clinical data in a secure manner that is consistent, flexible, and easy to implement.
These APIs along with compliance standards such as HL7, DICOM, and FHIR provide a foundation for interoperability and smooth data exchange in the healthcare sector.
Today, when everything is about data, health data analysis and artificial intelligence facilitate the early detection and management of a disease. Technology innovations in healthcare and life sciences domains depend upon the availability of genuine data. RPM can allow a continuous flow of data that can be stored and processed to draw meaningful insights to formulate treatment plans.
To give an example, RPM for chronic patients can be very beneficial. They might have asymptomatic issues which when monitored through continuous data collection can provide healthcare providers with biomarkers for medical intervention, when and if required. Medical interoperability platforms can collect, send, and integrate the data to improve health outcomes while reducing overall costs. Medical providers can deliver and focus on patient-centric care by integrating interoperability.
Challenges faced when including RPM in routine healthcare:
Data Privacy and security
Patients may have trust issues around data sharing. Many are sensitive about their health data being accessible to unknown clinicians/technicians. The problem can be addressed by enabling patients to choose the accessibility and availability of their private data tracking by only trusted and secure resources. Another element can be the security of patient data. The stored data on medical devices connected to the internet can be an easy target for cyber-attacks. Healthcare organizations need to be extra cautious and implement strong security protocols for devices dealing with sensitive patient data.
Acceptance of RPM by Staff and Patients:
Familiarizing oneself with the process of remote monitoring may take time. Technical difficulties, getting accustomed to interpreting patient data, device management, etc, all have a learning curve that needs mastering. Organizations can navigate this challenge by providing learning resources to patients and patient care teams. Nonetheless, RPM has yet to reach its full potential. With an abundance of factual data now available for detailed studies, research and assessments can bring innovations beneficial for patients and the overall healthcare sector.
Across the world, healthcare organizations, patients, and physicians are embracing RPM to improve patient care and satisfaction. Increased use of interoperable devices has the potential to spark innovation at a lower cost.
Because RPM is a futuristic transformative technology, it is important to spread awareness about its potential for improved quality and efficiency in health care. Hospitals and patients should be encouraged to use RPM technology. Simultaneously, the data and information from various resources need compliance standards for the exchange and storage of this data for future usage.
To implement an effective and successful Remote Patient Monitoring program, interoperability is a must. To optimize interoperability, creating data and adhering to data standards are equally important. With interoperable systems and standardized data, providers can use the information for better patient management and healthcare.
The growing needs of the healthcare sector can be addressed by RPM with a holistic approach. Interoperable platforms help healthcare providers to develop a solid and efficient process of integration and interoperation to maximize patient care and the effectiveness of treatment. These platforms must take into consideration scalability, flexibility, portability, and security of data in their care protocols, making virtual care future ready.
This article was provided to you by Decos, a cutting-edge technology services partner ready to meet your software needs in the medical domain. If you have a question on one of our projects or would like advice on your project or a POC, just contact Devesh at devesh.agarwal@decos.com. We'd love to get in touch with you!