Decos, supplier of digitization solutions to enterprises and provider of breakthroughs in digital governance to government institutions, is participator of the IFS World Conference 2019. Decos is a two-time bronze sponsor for this event to be held on October 7 to 10, 2019 in Boston, USA.
IFS World Conference 2019 will focus on empowering the global community of IFS customers to maximize the value they derive from their technology investments. The event will also focus on bringing like-minded industry challengers to get together and connect with industry leaders to gain insights. IFS wants all its customers and partners to utilize its platform to help design future strategies to transform their businesses. Visitors will get a wealth of information from the event, and the opportunity to collaborate and network with each other.
Decos and IFS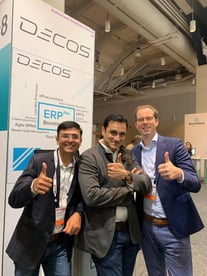 Decos is a solutions partner for IFS. Headquartered in the Netherlands, with its innovation center in India, Decos covers the northwestern Europe, India, Malaysia and Singapore territories. Decos have been providing high-quality agile BPMS solutions to augment the benefits of the IFS suite of products.
Over the last couple of years, Decos has tuned its agile BPMS solution that integrates seamlessly with the IFS platform to harness its abilities beyond structured processes. The solution offers a way to customize the business processes efficiently to suit the needs of organizations where the platform is being deployed without modifying the core ERP capabilities.
Visit us
We invite you to visit us at booth 44 to discuss your business scenarios and how agile BPMS can help with your business challenges. It's possible to reserve a meeting in advance by sending an email to info@decos.com.